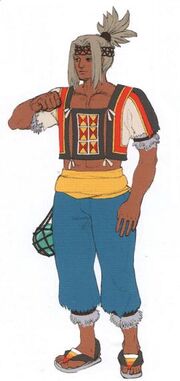 Reblys is a fisherman of Nashira, and a friend and rival to Gibari, as well as protector of Anna. It is implied in Baten Kaitos Origins that he may have a crush on Anna, who in turn has a crush on Gibari. This may be the reason for their rivalry, though Gibari is oblivious to Anna's feelings.
In Origins, he helps Sagi and co. escape Nashira after Imperial soldiers take it over.
Twenty years later in Eternal Wings and the Lost Ocean, he and Gibari remain rivals, though the two have gained an amount of respect for one another, while Reblys continues to try to win Anna's affections. He accompanies Kalas and co. to the Great Celestial River where he catches the sought-after legendary fish, much to Gibari's ire.
Ad blocker interference detected!
Wikia is a free-to-use site that makes money from advertising. We have a modified experience for viewers using ad blockers

Wikia is not accessible if you've made further modifications. Remove the custom ad blocker rule(s) and the page will load as expected.