Mintaka, the imperial capital, is the capital city of the Alfard Empire. Mintaka is possibly the most technologic city in Baten Kaitos world. The most notable characteristic of this city is that every building is made at least partly of shining metal, a symbol of technology and industrialization. The citizens of Mintaka are dependant on Machina, proud of themselves and their empire, and look down upon other nations.
In Baten Kaitos Origins, Mintaka is visited early in the game. Sagi has to escape from the city because he is being chased for killing Emperor Olgan, a thing he did not do. Here he meets Milly and Giacomo for the first time.
Eternal Wings
Edit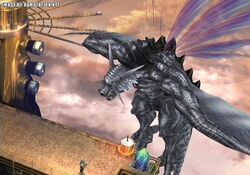 In
Baten Kaitos: Eternal Wings and the Lost Ocean
, Mintaka is visited by the group in their search of the last
End Magnus
. The first thing they do in the city is visiting
Lyude
´s house, but they are ambushed by
Skeed
and
Vallye
, so they have to leave Mintaka. Later in the game, Kalas and his friends save Mintaka from an attack of monsters from
Cor Hydrae
.
Residents
Edit
Camilla (in BKO)
Almarde (in BK: EWLO)
Lyude (prior to the events of Eternal Wings)
Qasim (after signing the Family Tree, he moves to Pherkad)
The name "Mintaka" is derived from the star Delta Orionis, a star in the constellation of Orion, that has the traditional name "Mintaka", which means "area" or "region" in arabic. Mintaka is one of the three stars that form the famous Orion's Belt.
Ad blocker interference detected!
Wikia is a free-to-use site that makes money from advertising. We have a modified experience for viewers using ad blockers

Wikia is not accessible if you've made further modifications. Remove the custom ad blocker rule(s) and the page will load as expected.