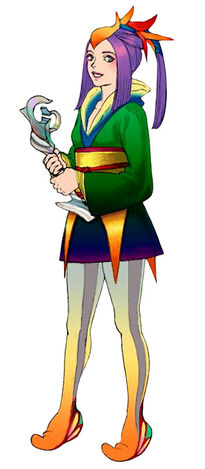 A skilled young engineer woman from Anuenue. She is an expert inventor and builder. Building the Water Wheel for her village in Opu, repairing Sagi's ship the Sfida and crafting Machina-like puppets out of Wood.
When she meets Sagi and aids him with the repair of his ship and she is instantly smitten by him. While Sagi appears oblivious to this it often has comical effect on both Milly and Guillo who are more than a little jealous. After completing her sidequest to help fixing the Watter Well she tries to confess her feelings to Sagi, but he cut's her and never discovers how she feels. She says goodbye to Sagi and Milly when they depart for Mira on their honeymoon and promises to even repair Milly's body if need be. 
She is morbidly afraid of greythornes, despite keeping one in her house. When Sagi links hearts with this greythorne to help her face her fear, no matter how many times he does it, she always kicks the greythorne out of her house, and Sagi's party instantly ends up at the entrance to Opu.
20 years later, in Baten Kaitos: Eternal Wings and the Lost Ocean, her creations are world famous even though her name seems to have been forgotten.