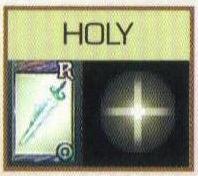 Light (sometimes alternatively referred to as Holy in Origins) is a type of Magic one of the Elements, found in Baten Kaitos: Eternal Wings and the Lost Ocean and Baten Kaitos Origins.
Light is strong against Dark/Darkness. In Origins, EX Combos using Light attacks often result in the user recovering some of his/her HP.
For a full list of Light-elemental magnus, see Light Magnus (Eternal Wings) and Light Magnus (Origins).
Finishing Moves
Edit
Eternal Wings
Edit
Ad blocker interference detected!
Wikia is a free-to-use site that makes money from advertising. We have a modified experience for viewers using ad blockers

Wikia is not accessible if you've made further modifications. Remove the custom ad blocker rule(s) and the page will load as expected.