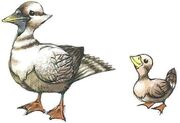 Fantail Ducks are a species of duck with a fan shaped, peacock-like tail. They can be found in Anuenue and Sadal Suud where they are ranched extensively.
For the Animal Collecting quest, Kalas will receive three from residents within Cebalrai, a regular sized one, a small one, and a baby (called a Fantail Duckling).
Ad blocker interference detected!
Wikia is a free-to-use site that makes money from advertising. We have a modified experience for viewers using ad blockers

Wikia is not accessible if you've made further modifications. Remove the custom ad blocker rule(s) and the page will load as expected.