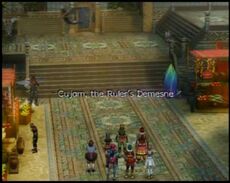 Cujam is an India themed spiritual town where people have such strong hearts that their Wings of the Heart can be used to fly always. It is Wiseman's stronghold and capitol after gaining power and ruling over the lands as its powerful king. Due to Wiseman's presence and powers to control almost anyone's heart, the inhabitants adopted an outright cult-like religion that worshiped him and his promise of Pro-magnation although a few were shown to have not fallen for his lies of power, yet they were too afraid to say anything about it.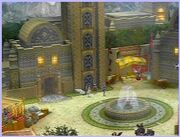 It is shown in
Marno
's flashbacks that he and his sibling go to Cujam after
Naos
, in an attempt to defeat Wiseman. However, they were no match against him and had to go back to Naos, but they see that their village was massacred. After forming the pact with the
Dark Brethren
, they go back to Cujam to kill Wiseman, but they see that the town is deserted, so they go to the Battlefields of
Atria
, where they meet their end. Shortly afterwards Wiseman himself is killed after greedily devouring the hearts of those that were slain in the battle, leaving Cujam virtually empty of its once numerous inhabitants.
Later, after the War of the Gods, when the continents rise into the sky, Cujam becomes Sheratan in Hassaleh. One can travel between Sheratan and Cujam using the Brierclock as a trigger for releasing Marno's memories.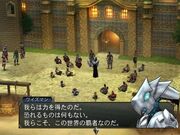 Ad blocker interference detected!
Wikia is a free-to-use site that makes money from advertising. We have a modified experience for viewers using ad blockers

Wikia is not accessible if you've made further modifications. Remove the custom ad blocker rule(s) and the page will load as expected.