Atria is a vast desert located in the
Age of the Gods
. The area is the site of the
War of The Gods
and is often referred to as the Battlefields of Atria.
After the War and the ascension to the sky, Atria and its surrounding areas become Hassaleh with the site of the final battle of the War becoming the Nusakan Thornwood.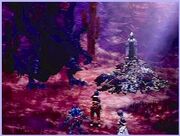 Ad blocker interference detected!
Wikia is a free-to-use site that makes money from advertising. We have a modified experience for viewers using ad blockers

Wikia is not accessible if you've made further modifications. Remove the custom ad blocker rule(s) and the page will load as expected.