Anuenue Port is the port of entry for Anuenue where visitors dock and disembark.
Role in BKO
Edit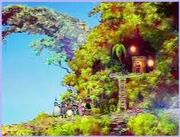 Ironically, the Port is one of the last places visited by
Sagi
and company as their ship, the
Sfida
, crash-lands in the middle of the
Holoholo Jungle
. A merchant is often seen at the Port selling apples. On all future visits, the party docks here as usual.
Role in BKEW
Edit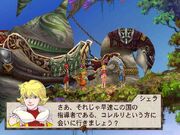 Kalas
and company dock the
Mindeer
here on their way to visit
Queen Corellia
as well as all future visits (later docking the
White Dragon
).
Ad blocker interference detected!
Wikia is a free-to-use site that makes money from advertising. We have a modified experience for viewers using ad blockers

Wikia is not accessible if you've made further modifications. Remove the custom ad blocker rule(s) and the page will load as expected.