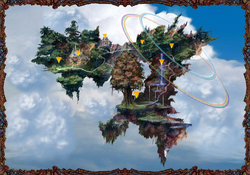 Anuenue, The Rainbow Nation
One of the Five Great Nations known for its School of magic, closeness to nature, the celestial Tree, its magical barrier which prevents attacks from the outside and its deadly Holoholo jungle. Its most striking characteristic is the rainbows which circle its peak.
Geography
Edit
Topography
Edit
Locations
Edit
Government
Edit
Anuenue is led by Queen Corellia.
Notable Residents
Edit
Anuenue is the only Island Nation in the World of Baten Kaitos which name isn't derived from an existing star.
Ad blocker interference detected!
Wikia is a free-to-use site that makes money from advertising. We have a modified experience for viewers using ad blockers

Wikia is not accessible if you've made further modifications. Remove the custom ad blocker rule(s) and the page will load as expected.